BOOK-

UP

v. 2.0

Fossederi Agritourism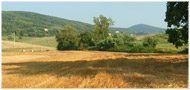 Our Welcome
Dear visitor, welcome to
Fossederi Farm Holiday
.
We greet you with this
simple and genuine way
, like the simple and genuine
traditions
which have been handed down through our family for
over 60 years
.
Indeed,
Fossederi Farm Holiday
, is a house to us because all around us there is
the history of our family
.
Up until the 1950's the structure belonged to the Conte Giuli Rosselmini Gualandi property, and the family Bacciardi lived here for about 15 years and in 1946 my husband Pier Luigi Baccciardi was born here.
After the Reforma Fondiaria (land reform) in the 1950's, the Count was expropriated of the land which was constituted to an Association for the Colonisation of the Maremma Tosca-Laziale with the institutional aim of assigning the land to Piccole Proprieta Contadine di Coltivatori Diretti (small farming properties for farmers). These farmers accepted the commitment to continue, with their work and their families, the improvement of the transformation started.
The house and its land were assigned over to the Consigli family and it was here in 1951 that I was born. During the 1950's our family was very patriarchal and it was made up of 12 people from grandparents, parents, children, aunts and uncles, and cousins.
With the passing of the years two nucleus groups of the family remained, and the property was divided into equal parts, and the land was farmed up until 1990's.
In 1995, our parents, both retired, left the running of the holding and the continuation of the family activity to the children.
This is how the business started
.
I hope that I haven't bored you with our family history, once again welcome and
we look forward to seeing you at our Farm Holiday
!
Paola Consigli
Photogallery
Our Family