BOOK-

UP

v. 2.0

Fossederi Agritourism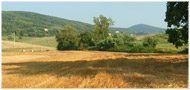 Fossederi Farm business
Fossederi Farm Business
is made up of two properties and the land has been farmed with different types of seed crops.
· Cereral, such as wheat, oats, brassica (cabbage)
· Chick peas
· Fodder
Apart from the farm land, the business also has an
olive grove
(so called "chiudenda") which is easy to reach and visit from the main farm holiday structure, and also a
vineyard
about 2 km from the farm holiday and this can also be visited during the harvest season and pressing of the grapes.
Fossederi Farm Business is also a member of the local farmers' production association (
Cooperative Produttori Agricoli Pieve di Santa Luce
), and it is here that the Fossederi business contributes with its products. It is possible to visit the oil pressing mill, where our olive oil is produced, at the Cooperative which is just 2 km from the farm holiday business. There is also a characteristic shop which sells typical local products such as "Terra di Luce" pasta made with the grain which has been contributed by members of the association.
There are many
cats and farmyard animals (rabbits, hens, ducks and ducklings
) to be seen at the farm holiday. You can also see wild animals such as
pheasants, hares, wild boars, roe deer, tortoises, hawks and buzzards
in the fields which surround the farm holiday, as well as many other species which make up the
natural repopulation
.
Photogallery
Farm Busuness